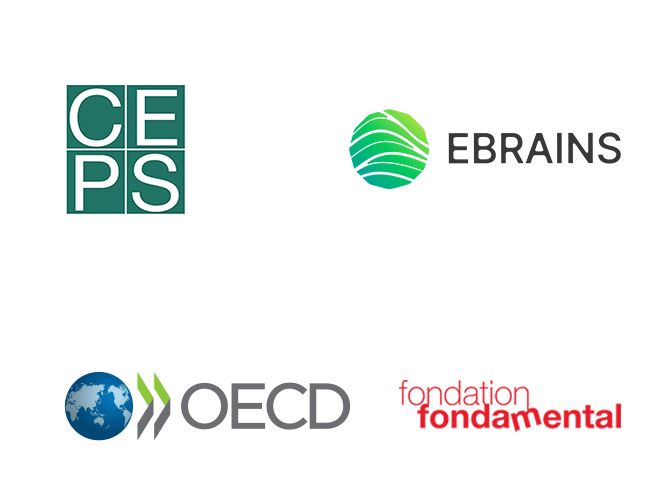 Launch event of the Brain Capital Alliance: Towards Person-Centred Approach to Brain Health
CEPS Conference Room at Place du Congrès 1, Brussels
Brain health is increasingly recognized as one of the main public policy challenges in Europe. The prevalence of neurological disorders is constantly rising and will become an increasing burden on the health systems, as the societies age. The COVID-19 pandemic has left a massive impact in the area of mental health. The EU is now responding to this situation by attaching a growing attention to brain health including in the Non-Communicable Diseases Initiative presented by the European Commission on 22 June. This follows the recent unanimous adoption of the WHO's Global Action Plan on Epilepsy and Other Neurological Disorders.
---
In this context, we are delighted to invite you to a speaker event entitled "Towards Person-Centred Approach to Brain Health".
The event is co-organised by EBRAINS, OECD and the Centre for European Policy Studies and will take place on Monday 4 July 2002, 10.30 – 12.15 in the CEPS Conference Room at Place du Congrès 1, Brussels (directions). You will also be able to join the event online (you will receive a link upon registration).
PLEASE REGISTER HERE:
https://www.ceps.eu/ceps-events/launch-event-of-the-brain-capital-alliance-towards-person-centred-approach-to-brain-health/
The event will feature the launch of the Brain Capital Alliance, a new undertaking that intends to support brain health and brain skills as indispensable aspects of today's knowledge economy.
PROGRAMME:
10.30 - Welcome and introduction
Cinzia Alcidi, Director of Research, Centre for European Policy Studies
Paweł Świeboda, CEO of EBRAINS and Director General of the Human Brain Project
10.35 - Brain Capital Alliance: Rationale and Goals
Harris Eyre, Co-lead of the Brain Capital Alliance, Senior Fellow for Brain Capital, Meadows Mental Health Policy Institute
Rym Ayadi PhD, Senior Advisor, CEPS and President and Founder of the Euro-Mediterranean Economists Association
10.50 - Towards Person-Centred Approach to Brain Health
Paul Boon, President of the European Academy of Neurology
Marion Leboyer, Chair of Psychiatry and Addictology, University of Paris-Est Créteil and CEO, Fondation MondaMental
Wolfgang Oertel, President of the European Brain Council
Paweł Świeboda, Director General of the Human Brain Project and CEO of EBRAINS
Katrin Seeher, Data Lead for brain health, Mental Health and Substance Use Department, World Health Organisation
Marianne Takki, Health Promotion, Disease Prevention and Financial Instruments Unit, DG HEALTH, European Commission
12.00 - Conclusions