Tools & Services offered by EBRAINS Computing Services and Neuromorphic Computing
2-4 November | Virtual Event
The event series started with the "Tools and Services offered by EBRAINS Computing Services and Neuromorphic Computing" training, which was organised by the WP6 Coordination Team with support from the Human Brain Project (HBP) Education Team.
After an introduction to the HBP, EBRAINS, and its services by Katrin Amunts and Dirk Pleiter from FZ Juelich, Alex Upton from CSCS in Switzerland delved straight into Scalable Computing and the CSCS systems Pollux and Piz Daint. Next, two Neuromorphic Compute Systems were presented: SpiNNaker by Andrew Rowley and BrainScaleS by Johannes Schemmel. Followed by Marc Morgan's presentation about the new Collaboratory and how to create a community app in the Collab and Bernd Schuller's introduction how to use Supercomputers from the Collab.

To increase interactivity, a new format of Career Coffee Breaks was introduced where Andrew Davison and Abigail Morrison shared their personal experience on career development and how to find the right work-life-balance. In total, 92 participants attended this versatile three-day training.
For more detailed information, click here
2nd Elephant User Workshop
17–19 November 2020 | Virtual Event
The 2nd Elephant User Training which followed took place from 17-19 November. This tool training was organised around the Python library Electrophysiology Analysis Toolkit (Elephant) in order to analyse neuronal activity data, such as spike trains, local field potentials, and intracellular data. Elephant provides a consistent and homogeneous framework for data analysis built on a modular foundation. The underlying data model is the Neo library, a framework which captures a wide range of neuronal data types and methods, including dozens of file formats and network simulation tools. A common data description, as provided by the Neo library, is essential for developing interoperable analysis workflows.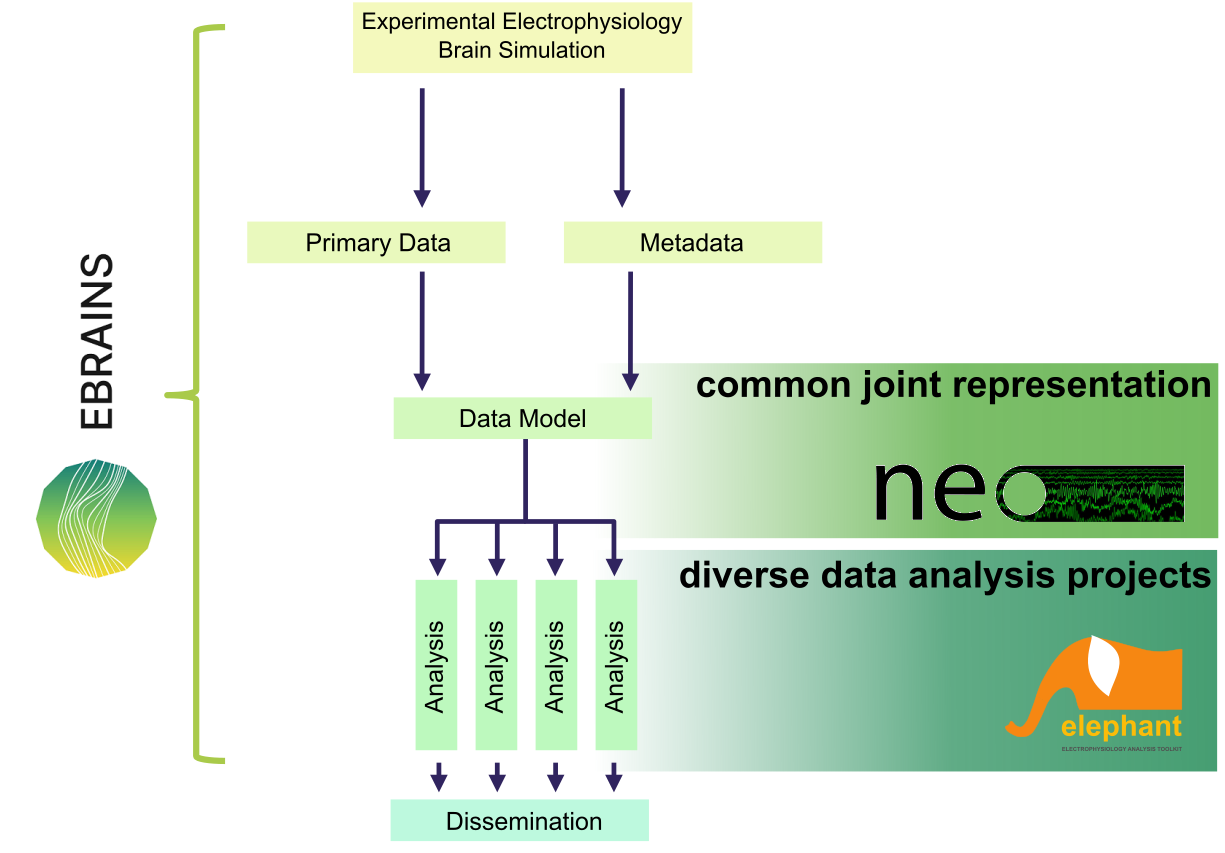 During the training, participants were first introduced to EBRAINS central services like the Collaboratory and the Knowledge Graph. The next learning units were quite interactive and hands-on, e.g. to set up a notebook for data analysis and for working with and manipulating of a Neo structure. Afterwards, participants could choose from a set of multiple tutorials for data analysis with Elephant, each focusing on a particular type of methodology, ranging from basic to advanced approaches. Finally, a session about reproducibility and provenance closed this first training part. In the second part of the training, a subset of interested participants could bring their own research topics, questions, and data to analyse and discuss with the available experts.
In total, 35 participants worldwide joined the virtual training. You can find the final meeting agenda here.
The EBRAINS Research Infrastructure Training was organised by the teams of Michael Denker (JUELICH), Andrew Davison (CNRS), and Samuel Garcia (CNRS), all contributing to the EBRAINS Services (e.g. "SIMULATION") and by the HBP Education Programme.
CodeJam #11
24–26 November 2020 | Virtual Event
The 11th edition of the annual HBP CodeJam took place in the last week of November.
HBP CodeJams are developer community focused events, originally rooted in the neuralensemble.org community. Each year, participants are trained on specific HBP technology, platforms and tools, many of them already integrated on the open-source Research Infrastructure EBRAINS. The three-day event was supported by HBP mentors and led by HBP experts, who guided participants through the projects and exercises, answered their questions, and shared relevant insights and tips.

As the event format was mainly hands-on, between 56 and 74 participants per day joined remotely on their own machines to spend many hours learning, networking, and collaborating.
Some of the addressed topics included:
Jupyter migration to EBRAINS
Model Catalog integration to EBRAINS
Progress on provenance tracking
Software licencing and TRL assessment
Migration Collab 1 to Collab 2
SpiNNaker-NRP Synchronisation
Sustainable software environments for computation-heavy science
PyTorch for spiking neural networks
PyNN in data-heavy high-performance applications
Developing a spiking neuronal network for controlling a robotic arm
Developer onboarding
EBRAINS Winter of Documentation (2020-2021) Kickoff
For more information on topics, speakers and materials, you are welcome to check out the full three-day agenda here or contact training-support@humanbrainproject.eu directly with specific questions.
If you don't want to miss any future EBRAINS Infrastructure Trainings, make sure to subscribe to our newsletter to stay tuned.
If you want to host a training yourself, and get administrative as well as financial support by the HBP Education Team, please have a look at our open calls and contact us at training-support@humanbrainproject.eu